My sister doesn't get married for another 2 months and my dress is already finished! How impressive is that! None of my usual 'snipping off the threads on a hand-stitched hem an hour before I have to walk out the door' shenanigans. I wanted to cross this one off the to-do list before both the reporting (school report cards) and the silly-social season kicked off.
This dress was a classic case of fabric love before pattern choice. I spotted this extraordinary J. Mendel designer roll end on EmmaOneSock many months ago. I thought it was soooooo beautiful. Included in the fabric description was a link to one of the designer dresses created using this fabric. It took my breath away. Stunning! Pure elegance! Now, it wasn't actually something I would ever wear. I'd happily wear it of course, but it's been, well 'never' that I've actually attended an event where this would not be seriously over-dressed. Clearly, I've been dating the wrong guys.
Source: http://www.lyst.com/clothing/j-mendel-floral-gazar-strapless-gown-multi/
Price: $8500 ouch!
Despite my fabric lust, I summoned up the willpower not to buy this fabric. By the end of the day, it was SOLD OUT. I wiped away my tears and moved on. Fast forward a few weeks and it was back. This time, I didn't hesitate and snapped up a few metres. "It's mine! My own, my precious."
The fabric is a silk/wool gazaar. For those interested, gazaar
is a
silk
or wool plain weave fabric
made with high-twist double
yarns
woven as one. It has a crisp hand and a smooth texture. Although, it is often described as lightweight, it's not really 'light' but then not heavy either. There's certainly nothing floaty about it. It is quite unlike anything I've seen before. It is gleaming and crisp, yet also appears to be quite a loose weave. It frays like crazy. Despite it's crisp structure, it has to be treated as a delicate as it runs quite easily. Sharp needles and scissors are a must.
Heading into this project, I had a few ideas about what I would like:
1. one-shoulder - love these but have never owned one
2. fitted bodice - a much kinder option for a pear-shaped gal
3. princess seams - I always feel that princess seams give you much better control over fit, on a fitted garment.
I created the pattern from my dress block. This block was fitted to me by my sewing teacher a few years ago. The block already had the lines for the princess seams so was an excellent place to start. After googling a few one-shoulder dress images, I randomly drew a diagonal line where I thought the neckline would run.
I was open to the style and fullness of the skirt. I originally went with a skirt that had one pleat either side on both the front and back. I decided to eliminate the pleats at the back because I felt they looked unflattering and somewhat ridiculous. Despite only having one pleat either side on my toile, I changed the pleats to two, just before sewing the bodice to the skirt. I'm glad I made this last minute change as I think it looks much better.
The dress is fully lined in black silk habatai. It's a beautifully soft, smooth silk that protects my skin from the slight scratchiness of the wool. (I've always had issues with wool and scratchiness).
The dress is finished with an invisible zipper. I'm not sure why the zipper looks so obvious in this photo because in real life it is actually invisible. I hand-stitched the hem into place.
I'm really very happy with the way this dress came together. Initially, I had concerns about my 'blooming boob' but decided I quite liked the balance of the three main flowers across the bodice. The waist seam does not always sit straight, due to the one-shoulder thing, but this is also something I am happy to live with.
I'm thinking I'll probably wear the dress with the shoes shown in the photos. What d'ya reckon? Do you think it needs anything else in the way of accessories, or are the flowers enough?
LOVE THIS DRESS! (The dress in the first photo costs up to $8500. I made mine for $8350 less than that. Bargain!)
A few more of J. Mendel's designs:
Gorgeous, but better suited on someone much younger than me.
Source: http://www.bergdorfgoodman.com/p/J-Mendel-Floral-Print-Cap-Sleeve-Sheath-Dress/prod81700106/
Also gorgeous, but not a neckline that I'm generally drawn to.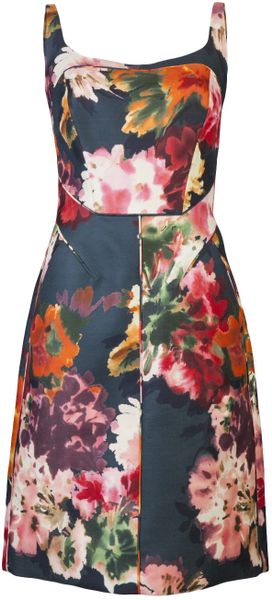 Source: http://www.lyst.com/clothing/j-mendel-gazar-dress-floral/
Finally, a little celebrity spotting - Emma Watson rocking her little J. Mendel number.
Source: http://www.closetcravings.com/2013/03/emma-watsons-floral-dress/