I didn't actually have any intention of making a new dress this week, but I'm very glad that I did. Not only am I happy with the results but it was actually a fun project. It was relatively simple and quick to make, which always makes for a relaxing sewing experience.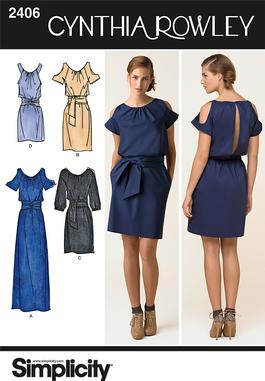 It all started on Monday when I decided I should duck into Spotlight and find some fabric to sew a friend a clutch for her birthday. There was NOTHING in Spotlight that really took my fancy. Consequently, my mind started to wander to my fabric stash. I decided that the Milly Silk Plaid I had purchased online from Emma One Sock a few weeks ago would be perfect. The only problem was that I didn't want to cut a small section out of it when I wasn't exactly sure what I wanted to make with it for myself. I really didn't want to find myself in the unfortunate situation of being 20 cm short down the track. I then noticed that all patterns were 50% off. I rarely ever look at Simplicity patterns, however when Vogue and Burda didn't deliver, I decided to check them out. I think this pattern was actually the second one I came across. I was immediately drawn to the 'holey' sleeves and wide belt. I have a few RTW knit tops with similar sleeves. I think they suit my broad shoulders quite well.
I came home and lay out the pattern pieces so I could determine if I would have enough leftover to make a clutch...yep! I cut away the section for the clutch, cut out the clutch and then stopped. As I said earlier, I had no intention of making myself a new dress this week, despite this, I found myself cutting out a toile for the dress. I didn't stop there. Two days later I had a new dress and (ahem) no clutch. Don't worry, I will get around to the clutch...just not this week (I've been far too busy!).
When I made up my toile, I initially cut out a size 16 top and graduated down to a size 20 at the hips. I found that there was way too much fabric billowing around my middle adding additional width where it was unwelcome. I took a dart-shaped section out of the side-back area and took in the side seams half an inch.
I also omitted the back opening completely. Seriously, what a bra nightmare! Initially I was going to use an invisible zip, but I discovered on my toile that I could easily fit the dress over my head. Given this I cut the CB on the fold. The pattern also has in-seam pockets. I left these off too. I didn't really want the extra bulk at my hips. Also, my body shape is better suited to wearing the tie lower than is suggested in the pattern. I think the tie would have cut off access to the pockets anyway.
I wore this dress out yesterday for Sunday afternoon drinks at a groovy bistro overlooking the beach in Palm Cove. My husband's band was playing there which made it extra special. And if that was special enough, there are a mega moon rising at the beach at sunset. Spectacular!
Just for fun, here is a photo of the original Milly dress made from this fabric. It's a shirt dress that retailed for $375.