So here we have the first pair of trousers I've ever sewn. After seeing these photos, I've decided they are a work in progress and will have to return to the sewing room. I initially ordered this fabric from Emma One Sock to sew a pair of jeans. On a arrival, however, I discovered the fabric had more stretch then I was wanting, so decided to make a pair of trousers instead. I'm not actually a big fan of stretch fabric for my bottoms halves - sure they're comfy, but not as flattering. Either way, I felt that trousers would be a better option than jeans.
I was actually aiming for something a bit chic like that seen in the photo below. Sadly, I haven't quite hit the mark.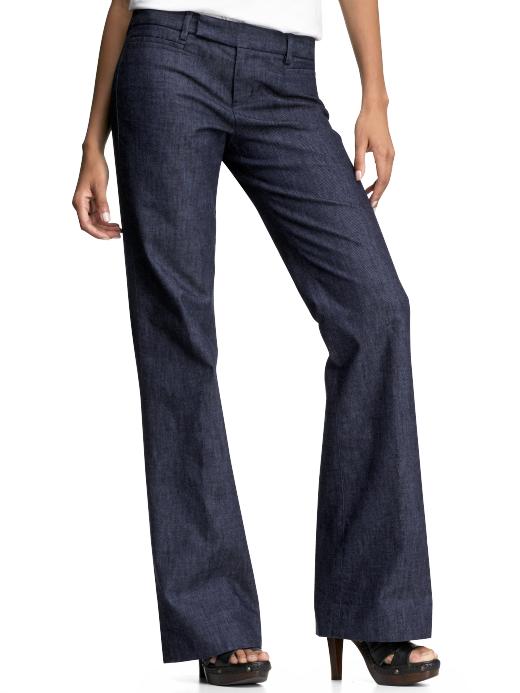 I decided to try Burda 8087. I realise the above photo is a boot-cut and the photo below wide-leg however I was happy with either looks. I really like wide-legged pants and was happy to channel the look on the pattern cover.
Well, the legs on the pants ended up RIDICULOUSLY ENORMOUS. Instead of channelling chic, I was channelling elephant girl. I have already removed a considerable amount of width from the legs both at the inner-seam and the side seam. Despite this, they are still heavy and shapeless. I also think they are making my thighs look wider than they are. I think I'll take them in through the thigh and see if that helps.
I am also getting some creasing around the crotch area. (That said, on closer inspection of the RTW trousers above, there is also creasing - am I being too hard on myself?) The crotch area is also sitting a tad low. I think I'll have a go at fixing this up as well.
Here is a shot of the welt pockets. Sadly, I forgot to baste the upper and lower sections together before adding the pocket bag. Consequently, they are quite open. Let's just call it a design feature. That aside, I followed a fabulous
tutorial by The Fashion Incubator
for creating the welt in the first place. She recommends making a simple paper jig to assist with the construction of the welt. It really was worth it and made the construction easy and precise.
As you can see, I struggled a but with the stretch in the fabric. It was hard to make seams sit flat as can be seen where the waistband meets the legs.
I copied the belt carriers from a pair of
jeans sewn by Mary Nanna
a few years ago. When I originally googled belt carriers these were the ones that caught my eye...so thank you Mary Nanna.
Due to the stretch of the denim, I faced the waistband with cotton lawn. I also felt I needed a waist-stay so sewed in a length of grosgrain ribbon between the waistband and facing.
I don't actually think the side view looks too bad.
Overall, they're comfortable and stay up (which is a blessing, as much of what I wear constantly slips down). I will however have to play around with the shape of the legs if I'm going to be rally happy with them.